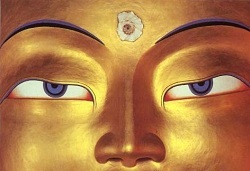 Foundations for Freedom: The Hinayana (Course II) - The Second Noble Truth: The Origins of Suffering, Part I - The 5 Skandhas (online)
with John Rockwell & Acharya Dale Asrael
This is the second in a series of five courses exploring the profundity of the Hinayana teachings of the Buddha. Open to everyone. You do not need to have taken course I.
Course II Overview
Having recognized the truth of suffering and the confusion that is pervasive in our life, we naturally have questions. How does this state of suffering arise? Where does confusion come from? Our innate intelligence begins to explore the subtle layers of experience, going deeper and deeper until we come to the heart of our being. In this in-depth exploration of the Five Skandhas, we will touch these layers or constellations of experience one by one, starting from the unconditioned, innate ground of open space, and see how we fabricate our own world of projections.
Class 1 Introduction to the second noble truth and how it relates to the five skandhas.
Class 2: Shandha of Form with Acharya John Rockwell
Class 3: Skandha of Feeling with Acharya Dale Asrael
Class 4: Skandha of Perception with Acharya Rockwell
Class 5: Skandha of Conceptual Formations with Acharya Asrael
Class 6: Skandha of Consciousness with Acharya Rockwell
Class 7: Recorded: Discussion on Zoom with both teachers
There will be suggested readings from the following books:
Chögyam Trungpa, Glimpses of Abhidharma (GOA)
Chögyam Trungpa, Cutting Through Spiritual Materialism (CTSM)
About the Teachers for Course II
Acharya Dale Asrael became a student of Chögyam Trungpa, Rinpoche in 1973, and has continued to practice and teach within his lineage, leading programs and retreats internationally. She is a Professor at Naropa University, and leads the Naropa University Mindfulness Instructor Training, a year-long program for people teaching meditation in transitional environments.
Ashe Acharya John Rockwell has been on the Shambhala and Buddhist path for 40 years, studying with Chögyam Trungpa Rinpoche and Sakyong Mipham Rinpoche. His main interests are in opening the heart and senses through meditation and qigong and in bringing awareness to everyday life and the natural world.