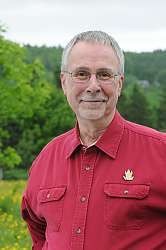 "Warriorship and VAulnerability" - Acharya Hardin's Monthly Online Talk to the Atlantic Community
with Acharya Moh Hardin
Acharya Moh Hardin gives a monthly online talk to the Atlantic community. The titled of September's talk is "Warriorship and Vulnerability."
Please take time before the session to uplift your environment and arrange a suitable chair or cushion for meditation so you can practice with good posture.
Join Zoom Meeting
https://us02web.zoom.us/j/85156501898

Meeting ID: 851 5650 1898
Passcode: 156789
Program starts at 7:00pm. Come 10 minutes early to test technology.
"Warriorship and Vulnerability"
The path of the warrior bodhisattva is to step out of our self-centredness into openness, to expand from meness into vastness, to emerge from our cocoon and flutter our beautiful, tender wings. But how can we do this without experiencing vulnerability? We can't!
So let us explore vulnerability and warriorship in this talk and discussion, the personal experience and workability of vulnerability in our lives and on our spiritual path. Here are a few thoughts to consider:
The sociology researcher Brené Brown talks about "The Power of Vulnerability." (TED Talks: Brené Brown, "The Power of Vulnerability, https://www.ted.com/talks/brene_brown_the_power_of_vulnerability#t-1215318, a 20 minute talk that has had 49,368,148 views last time I watched it.) To quote her:
"The folks who felt worthy had the courage to be imperfect. They had the compassion to be kind to themselves first and then to others...and they had connection. As a result of authenticity (authentic presence), they were willing to let go of who they thought they should be in order to be who they are...
"These folks, very simply, had the courage to be imperfect. Courage comes from the Latin word "cor," meaning "heart" -- and the original definition was to tell the story of who you are with your whole heart...
"The other thing that they had in common: they fully embraced vulnerability. They believed that what made them vulnerable made them beautiful. They had the willingness to say, "I love you" first, the willingness to do something where there are no guarantees, the willingness to breathe through waiting for the doctor to call after your mammogram. They thought this was fundamental...
"So, this is what I learned. We live in a vulnerable world. And one of the ways we deal with it is we numb vulnerability. But you cannot selectively numb. When we numb vulnerability, we numb joy, we numb gratitude, we numb happiness."
Chögyam Trungpa taught:
"Vulnerability can sometimes make you nervous. It is uncomfortable to feel so real, so you want to numb yourself. You look for some kind of anesthetic, anything that will provide you with entertainment. Then you can forget the discomfort of reality. People don't want to live with their basic rawness for even fifteen minutes."